Seeker 360™ Technology  
Providing the Insurance and Real Estate Industry's most accurate and immersive data capture experience.
Seek Now's Seeker 360™ Cameras and Tech power our Seeker 360 Services. Our teams brought this new technology to life to further complement and expand upon our existing, long-trusted services portfolio. The output provides the most accurate and immersive data capture experience we've yet to offer and allows our customers to be on the ground at the scanned location without ever physically stepping foot on site.
What Is It?
Seeker 360™
Cameras lean on LiDAR, hi-def image capture, and embedded photo tagging to create a digital twin of interior environments with an intuitive navigation experience.  
Use cases are broad, ranging in size from one room in a single-family home to sprawling warehouses and beyond.
The end result is an immersive virtual copy of the recorded space via 360° Walkthrough, complete with accompanying high-def photos alongside detailed notes, and 2D floorplans with less than 2% variance measurements (98% accuracy).
Benefits for Insurance Carriers
Irrefutable ground truth of current property conditions with accurate measurements

 

Embedded damage and source tagging for informed claim settling

 

Reduced cycle time via faster inspections to expand adjusting capacity

 

On-demand, remote collaboration accessible from anywhere

 

ESX and XLS compatible downloads

 

Option for 2D floorplan draft with measurements for cabinets, countertops, and appliances

 
Benefits for Real Estate & Property Management
Ironclad property records with real-time visual context and accurate measurements

 

On-demand, remote collaboration for smarter maintenance and renovations

 

Streamlined property acquisition for virtual decision making

 

Asset inventorying for retail locations and warehouses

 

Appliance and equipment documentation for faster repairs

 

Embedded damage tagging for faster turn velocity

 
How Does it Work?
One of the biggest problems we sought to solve for: Ensuring that more detail and more data is actually collected faster, and with more accuracy, than other conventional methods.
So we made it easily accessible, fast to execute, and incredibly precise leveraging the most reliable tech and thoughtful development.
Here's how we did it.
Seek Now Services are made readily available with fast turnaround thanks to our fleet of 1000+ Inspectors located across the continental U.S. Our entire Inspector network is certified to operate Seeker 360 Cameras and thus support running Seeker 360 Services, making them an accessible option nationwide.
As a Seek Now Inspector uses the Seeker 360 Camera to create the virtual 360° Walkthrough environment, they are guided through the image capture process using the proprietary Seek Now Mobile App. Inspection time and delivery are remarkably fast. For example, a 1600 sq ft property is typically completed in under an hour).
360° images are captured in one shot, meaning Inspectors only need to make minor camera adjustments in every room being scanned. And due to the long range required by LiDAR technology, the Seeker 360 Camera requires fewer unique camera positions to collect all necessary data, making the onsite capture speed remarkably fast – all while simultaneously collecting accurate measurement data and drafting 2D floor plans.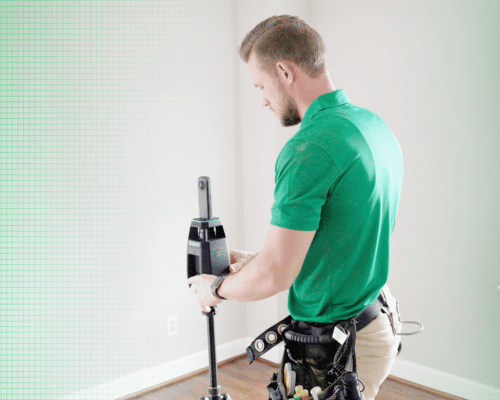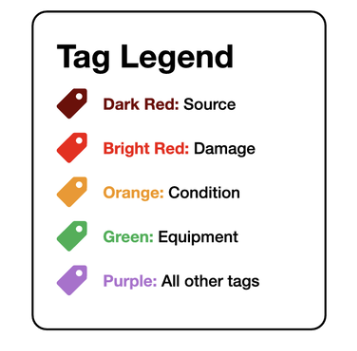 LiDAR-based systems, such as Seeker 360 Cameras, use what's called "time-of-flight" laser measurement. Floor plans created using LiDAR data retrieval have the highest accuracy (2% variance) that exceeds other industry standards.
While Inspectors are scanning a property, they are also actively highlighting damaged areas (or areas of interest, such as appliances or utility room contents) by tagging specific locations within the interior scan. Those tags are accompanied by a close-up, high-definition photo of the interest areas to act as a reference point and to increase contextual accuracy.
The tagging feature leverages a color-coded system to categorize the type of call-out for each inspection tag, making the 360° Walkthroughs' navigation as seamless as possible for our customers.